As a construction contractor, you know that hard work and quality results matter. You hold yourself and your workers to a high standard and your customers love your work. But none of that matters if you aren't making the profits you want to make at the end of the day. Too many contractors spend all of their energy on doing their work and not enough energy on the finances behind their work. In this article, we'll take a look at what construction contractors need to know to make a profit. The secret is out there, but you'll need to learn some new skills to really grow your profits.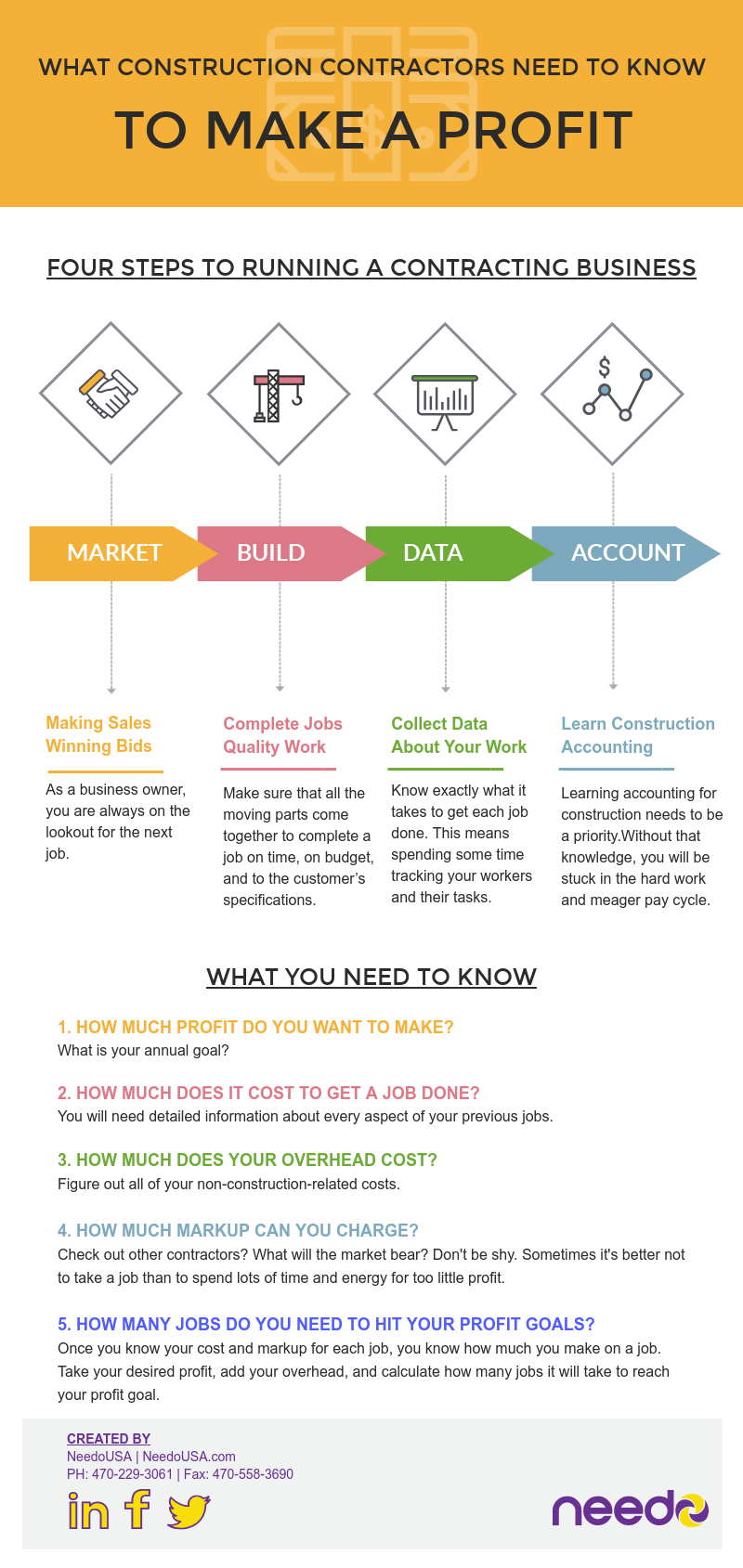 What it Takes to Run a Contracting Business
There are three main parts of running not just a successful, but a profitable contracting business.
The first part of the job is pounding the pavement and getting the jobs. That alone can be a time-consuming and tiring part of running your business. As a business owner, you are always on the lookout for the next job. If you have been in business for a while, you may have a steady flow of work from referrals, but even that requires creating bids and making sure that referrals turn into paying work.
The second part of running a successful contracting business is completing a job once you've won the bid. As a budding contractor, you probably assumed that this would be the main part of your job. As a general contractor, it's your job to make sure that all the moving parts come together to complete a job on time, on budget, and to the customer's specifications. You need to order all of the materials and any special equipment you will need to buy or rent. You need to assemble the workers and subcontractors you will need to perform the work. Once you have your materials and personnel, you need to get everything scheduled out so that everyone is coordinated and the job can be completed on time. As the job progresses, everyone needs to get paid, and in the end, you need to get paid.
The Key to Making More Profit
Just taking care of these two parts of the business can be incredibly time and energy consuming. And if you do these two things well, you will stay busy and probably pay your bills. But if you really want to go from paying your bills to making a hefty profit, you will need to pay attention to the third part of your business: accounting. That's right, as a construction contractor you probably never expected to also be an accountant, but without that skill, you will be forever working hard for too little pay.
The first step in making more profit is to know exactly what it takes to get each job done. This means spending some time tracking your workers and their tasks. If you are going to be hanging drywall, you should know exactly how long it takes per square foot. That means tracking each worker by task and knowing exactly who's doing what and when.
While it may seem complicated at first, there are tools that can help. Construction management software from Needo is ideal for this task because it is accessible by the contractor and the workers. Workers can access schedules and log their work. All of that information is stored and is easily accessible for placing the next bid.
But accounting for construction businesses is not a simple process. It takes time to learn. But learning accounting for construction needs to be a priority, just like learning any other part of your trade. Without that knowledge, you will be stuck in the hard work and meager pay cycle.
What You Need to Learn
To master construction accounting, you should expect to spend some time learning. You can take a class, complete an online course, read books, or any other method you prefer for learning new skills. But it is a new skill, and you will need to invest in learning it just like any other skill. A common mistake construction contractors make is to hire a bookkeeper and then walk away from the finances. That would be like hiring a foreman and then never visiting your job sites again. A bookkeeper can help run day-to-day operations, keeping the checkbook balanced and all the bills paid. But they won't develop your plan for growth.
You need to learn to read a financial statement and interpret your income statements. Once you have a job, you will need to know how to calculate job costs accurately, fill out a work-in-progress form, and track your overhead. Finally, you need to how much markup you need to turn a profit and how much sales you need to meet your profit goals. None of this should be farmed out to a bookkeeper. While a bookkeeper can help with the numbers, you will still need to know how to read and interpret those number and plan for the future of your business.
Annual Planning
To make the money you want to make, you need to know certain underlying numbers. Start by working backward. How much profit do you want to make for the year? Sure, every contractor would love to be a millionaire, but starting with a profit goal will inform all of your other decisions. Start with what you think is a reasonable goal, and you can adjust it as you do your calculations.
Once you know the profit you would like to make, you need to plan how you will get there. To do that, you need to know your overhead costs. Once you have your overhead costs, you can figure out how much markup you need to make on each job and how much sales (that is, how many jobs) you will need to reach your desired profit. If the numbers don't make sense, adjust them. Do you need to sell hundreds of jobs to get to your desired profit? You may have to adjust your markup. If your markup seems to be unrealistic, then you may need to adjust your profit. Play with the numbers until you find something that works for you.
One important factor is knowing your costs accurately and in detail. What are your crew costs? How much does it costs to purchase, rent, and maintain your equipment? How many hours does it take to complete each task in a job? If you can't answer these questions, you will have a hard time determining what your markup needs to be. You also need to do a little market research and see what your competitors are charging to determine a realistic markup that can still win bids. Sometimes it's better to lose a bid than to bid so low that you are hardly making a profit.
Day-to-Day Numbers
To gather the information you need for your annual planning, you will have to track everything you do. Data collection is vital. You need to know how much everything you do costs. That includes your crew, your materials, your equipment, your overhead, and anything else you pay for. You also need to know precisely how long each part of a job takes so you can calculate your crew costs. Needo's software is a great way to keep track of these numbers.
Using Construction Management Software
When you use construction management software, you can track everything, which is the first step in creating a plan to make the profit you want to make. It also helps with that crucial final step: invoicing. Making sure you get paid and making sure you get paid enough, is the only way to build a thriving construction contracting business. Partnering with Needo provides a crucial benefit that helps you get there. You can find out more about Needo here.