There are many steps involved in running a successful construction project. The project begins well before the general contractor steps in. The project's designers may start with selecting a site. An architect is brought in to create a concept and then a detailed design. Other experts may weigh in with all kinds of consultation. Depending on the project, there may be environmental concerns requiring special review. Some projects may have technical requirements for security, ability to withstand natural or man made disasters, and other specifics. Ultimately, once the initial planning is complete and a final blueprint is drawn, the job is passed to the general contractor. At this point, a contractor can use construction management software to manage the whole process until the building project is complete.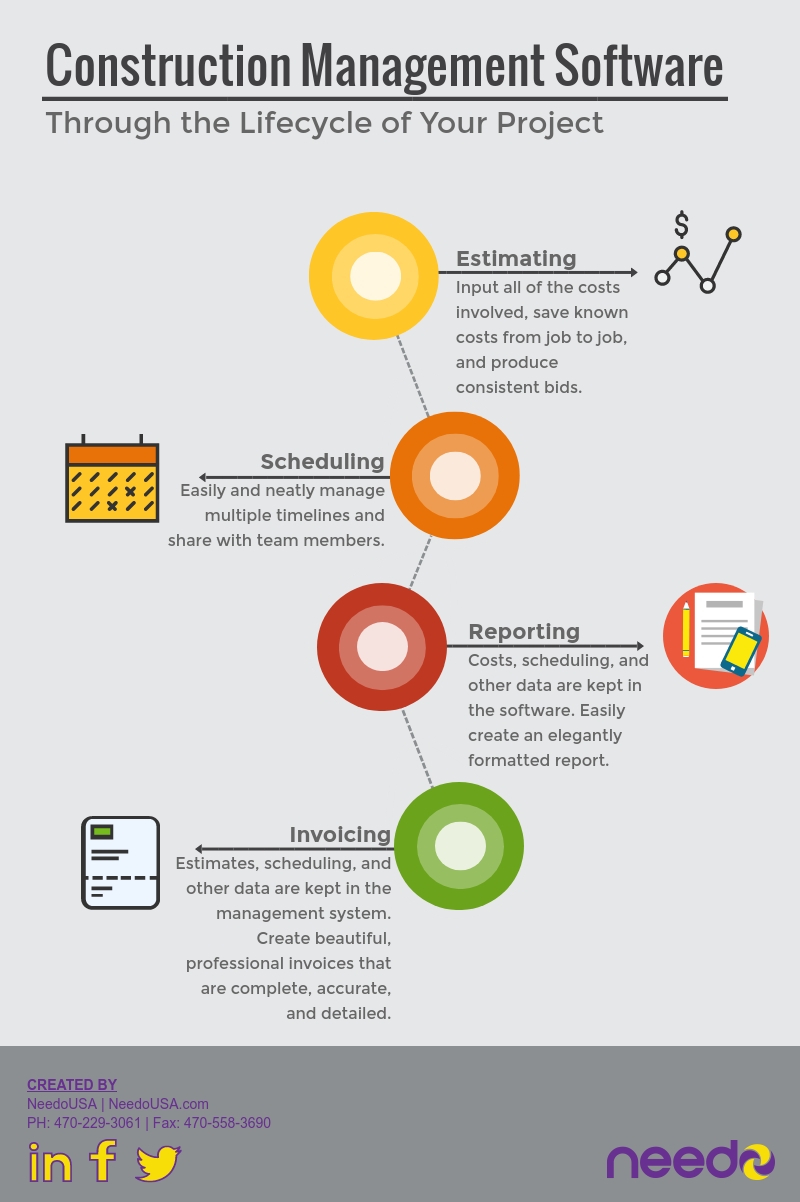 The Role of the General Contractor
A general contractor will be the business or individual that oversees the construction phase of a building project. In some cases, the general contractor may be called in during the design phase as well. In this case a general contractor would consult on the feasibility of designs, expected costs, or other final design concerns. But in every case, the general contractor will be the one directly overseeing the construction.
The General Contractor as Small Business Owner
Often, a general contractor is a small business owner. In this case, the contractor is responsible for the financial success of each individual project as well as the company as a whole. Like any small business owner, the contractor has many concerns. These include many administrative tasks. For instance, the contractor/owner may end up doing all of the books and accounting. They may also oversee HR, such as employee compensation, benefits, and other concerns. They are also faced with regular office tasks common to any business. This includes correspondence with vendors, subcontractors, customers, and third parties. Even such basic tasks as answering the phones may fall on the contractor/owner.
As a business grows, so do the administrative tasks. One way to keep growing is to bring in more employees to fill the administrative roles. A contractor may bring in an office manager, secretary, or other administrative professional. Other roles, such as estimating and bidding may be delegated to a professional estimator or salespeople. In every case, the tradeoff is between the cost of hiring new employees and the benefit of delegating duties. As a small business owner, a contractor needs to make smart business decisions that often have nothing to do with the work of construction.
One smart business decision is the decision to use construction management software. Construction management software is one of the most significant advances in the business of construction since the introduction of personal computers 40 years ago. These construction management software platforms help with many of the business tasks a contractor faces. While there are many software suites designed for small business, these systems are custom built for construction and its unique needs.
Estimating
The first step in any project is estimating. When a contractor is presented with a job, they need to place a bid with the customer. This bid will ultimately determine how much a contractor can get paid for a job, so getting an accurate bid is just as important as getting a competitive bid. In general, there are three ways a customer can select a bid: low-bid, best value, and qualifications. In any case, providing an accurate bid is the best way for a contractor to ensure that they makes enough money on a job. Consistently placing accurate bids that include job costs, overhead, and profit are the key to a successful contracting business.
Construction management software can help tremendously in this process. This software can take the estimating process from best guesses to detailed, fact-based estimations. The estimating software allows the contractor to input all of the costs involved, save known costs from job to job, and produce consistent bids. It also allows the contractor to easily produce detailed, professional reports for the customer.
Providing a customer with a detailed, professional looking bid can be a differentiator for a contractor. A customer needs to trust a contractor's ability to deliver on their estimate, and professionalism sets a good precedent. On the other hand, a vague and poorly drafted bid can indicate a sloppy business, even if the business is actually highly competent.
Scheduling
Once a job is secured and the work is begun, scheduling is everything. The most common cause of cost overrun is problems with scheduling. Keeping laborers and subcontractors on schedule ensures that a job will be done ontime and on budget. Scheduling also extends beyond labor. Timely delivery of materials will keep laborers from having to wait around, which could cost precious time. The same is true of any equipment rentals, permits, inspections, and other pieces of a project that are necessary to move forward.
Construction management software can streamline scheduling. By taking scheduling digital, a contractor can easily and neatly manage multiple timelines. There is no need for multiple large wall calendars, a forest of sticky notes, or a pile of papers. Everything can be done neatly online. The schedules can also be easily shared with other team members. A foreman, project manager, and even the individual laborers and subcontractors can all share parts or all of the schedule.
Reporting
Keeping a customer informed is both a sign of professionalism and trustworthiness. Especially on larger projects, a customer expects to be informed of progress, costs, etc. on a regular basis. In the past, to do this properly meant keeping detailed notes on every aspect of the project. Schedules, materials, and costs all had to be tracked. Then, to prepare a report, the contractor had to synthesize all of that data into an easily readable format that provided the customer with as much information as possible without becoming too complicated to fully understand. This took a certain amount of administrative skill entirely unrelated to construction. It also took time that could be spent on other, more consequential work.
With the introduction of construction management software, creating reports became much easier. Because all of the information about costs, scheduling, and other data is kept in the software, a report is easy to pull at any point in the job. The work of creating an elegantly formatted report is also done by the software, so that all the contractor has to do is deliver the final product. This greatly increases the level of professionalism while also relieving the contractor of a difficult and time consuming task.
Invoicing
Invoicing is arguably the most important step in the cycle of a construction project. While there are many, many steps that go into the successful completion of a construction job, the contractor doesn't get any benefit until the invoice is sent and fulfilled. Producing professional and accurate invoices reflects on a contractor and their business. Invoices should be neat, detailed, complete, and accurate.
Using construction management software to create invoices greatly streamlines the process. Traditionally, the costs of different parts of a job, as well as all the labor and other factors in the final cost, had to be maintained separately. Once the job was complete, all of these costs had to be added up to create a final invoice. Invoicing was complicated and time consuming. By integrating invoicing into the construction management software, all of that changed. Because all of the information from the estimates, scheduling, and other aspects of the job are kept in the management system, producing a detailed invoice is easy. The software can use its database to create a beautiful, professional invoice that is complete, accurate, and detailed.
If you are still doing things the old-fashioned way, you are probably spending way too much time on administrative tasks. With software from Needo, you can eliminate many menial tasks and streamline your workflow. Freeing up time allows you to grow your business and take on more customers, increasing revenue and profit. Contact Needo today to learn how our software can help you grow your business.